Okay I am really grasping at straws for a blog post…..but I thought this might be fun. Today in school I met with my creative writing club. It's not all the time I get the fiction writing bug in me. I really feel that I am just not that good at it. I try, and I had a lot of fun with it in high school, however I don't feel worthy of trying to pursue it professionally. When I was younger I would write all the time. I have stacks and stacks of journals, notebooks, diaries- you name it- dating back to 5th grade. How awesome is it to read my writing and know what I was doing and feeling and thinking in 5th grade?!?!? Speaking of fifth grade, guess what book I read last night when I couldn't fall asleep- and I am obsessed with it.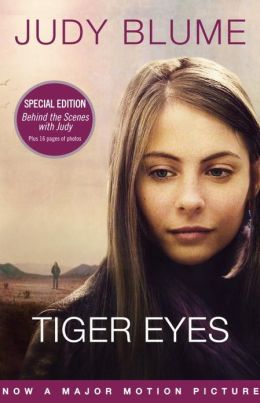 Judy Blume!!!!! I remember reading her in middle school. I am such a dork but….Oh my God this book is amazing, and I just realized it was a movie. I realized that I literally have read ONE fiction book last year. ONE. All the others were non-fiction about farming and food. So maybe I need a little inspiration in order to get writing fiction again.
Anyway, I'm not going to post something I wrote in 5th grade, that would be infinitely embarrassing. Mostly I wrote about how I was too nervous to ask the boy I liked to square dance, or pretending I was Harriet the Spy (come on…I'm not the only one am I?). But I was going through one of my more recent journals and found a couple of good pieces that surprised me. My problem is I can't sit down and write lengthy writing pieces. I'm good at character sketches (which is what this is) or short stories, but even then I struggle with plot line and conflict. The only way to get better is to practice….that is part of why I started this blog! I don't plan on posting fictional pieces up here regularly (unless people are interested?!?), but I thought it might be fun today….because I am really just exhausted and in flipping through my camera there is absolutely nothing to even remotely make up a coherent blog post. It's the week after break, I haven't slept, and I am miserable. So here's a little fiction read for you:
It was six summers ago that Jake had broken his arm trying to convince their cat Miles to come down from his very oak tree that Minny was currently perched in. Since then the oak had grown, and so had the fracture in Jake's arm. Minny knew that Carol and John would be very upset with her hiding here, but she also knew they would never find out. Their attention never lingered on her for more than the time it took to figure out if she had eaten, and to command she go to bed. No one had even looked up at Minny in the last month and four days that she had been sitting in the oak, every day from three until six o'clock, when Carol arrived home and poured her first of many gin and seltzers. She liked to watch people. Going for a jog in the hot afternoon air after a long day at work. Walking briskly to maybe their second job. Or the gym. Sometimes she liked to imagine they were all rushing to the same place. A very important meeting. Or, they were all rushing and hurrying and looking stressed out just so they could go home and crawl into bed.
The woman with the black curls had walked by every day Minny had been in the oak. She seemed to be looking for something. Obviously, she never found it because here she was……every day at 5:15 she strolled down the park sidewalk looking anxious. Was she waiting for someone? While everyone else seemed rushed, occupied, she seemed expectant. Minny imagined that she waiting for the love of her life. Maybe she was delusional. Maybe her husband had been killed in Iraq and this was where she met him. She came every day at 5:15 expecting him to be here. But he never showed. The girl must be crazy, Minny decided. When was she going to face the fact that her husband was never coming home?
Minny yawned and checked the sun for the time. Carol had still not bought her a cell phone. All the other third graders at Smith Elementary were toting razor thin touch screens. This was standard for Capstil County. Carol told her that there was nothing in the world that a third grader would really need a cell phone for. Judging by the relief of the heat the day had reached it's climax. The sun had begun it's descent. Any minute now the girl with black curls would be meandering by, once again looking for something that could not be found.
Minny yawned again and closed her eyes. There was a heat lighting storm last night, keeping her up hours past the eight o clock bedtime Carol had set for her. The sooner she got into bed, the sooner Carol didn't have to pay attention to her, and most nights she stayed up late watching the glow in the dark stars on her bedroom ceiling fade. Once in awhile she would hear a muffled argument. Even with her ears out the screaming seemed to find a way to penetrate her soul. It was nights when Carol and John would run around the house in a drunken rage, hurling antique vases and throwing the contents of a dresser out the window, that Minny was glad she was not able to hear.
Do you ever write fiction?
Did you keep journals when you were a kid?