TGIW- Thank God It's Wednesday- and like I said last week, What I ate Wednesday is SERIOUSLY getting me through the week. As you will see, I am completely exhausted from this weekend and being swamped at work and just have not had time to chill out. Luckily I'm linking up with Jen from Peas and Crayons for another WIAW to take my mind off TEST SCOREESSSS!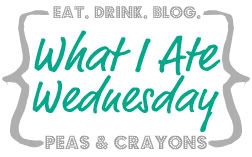 This weekend we did something unusual- went home on a regular weekend. I generally don't like to do that because it's just too exhausting (case in point, how I feel this week), but I suppose it was worth it looking through all the fun stuff I did.
We started out Friday night at a great restaurant in Syracuse called Empire Brewing Company. The wait was an hour and a half but we were happy to be with friends and it went by fast. I totally forgot to take a picture of my meal though. #Badblogger. The next morning I woke up and made myself a delicious breakfast at my paren'ts hosue before going to a local yoga class:
Roasted broccoli and sweet potatoes, sauteed mushrooms and peppers with two eggs.
The next night I was heading out in Syracuse again with my two sisters. We were supposed to go to another one of Syracuse's great restaurants, Pastabilities, however the wait was AGAIN an hour and a half and none of us felt like waiting. We grabbed drinks and dinner at a close by bar instead. I started with a Left Hand Nitro Milk Stout. I don't know what it is with me and stouts this time of the year.
I couldn't really decide on dinner, but since we were supposed to go to fro yo after dinner, I wanted to err on the light side with a meat and cheese plate. My plan to go "light" backfired when I received this:
Different, and so #notpaleo, but it was tasty! I took some leftovers home and we headed to the best Fro Yo place ever, Yogurtland. Yogurtland was my first experience with frozen yogurt and after that I thought all frozen yogurt places were legit, until I tried some random frozen yogurt place and realized that Yogurtland was superior. It was a very hard decision between maple cookie and mint, but mint won out since it is March! I topped it with cacao nips, chocolate covered waffle pieces, crushed oreos and rainbow sprinkles.
Man, I don't have fro yo often…it's so good. But my stomach hates me afterwards!!!
As I said, I brought home some leftovers and I incorporated that into my breakfast the next morning which was delicious:
More sweet potato, chopped up prosciutto, avocado and scrambled eggs.
It was a great weekend, before we knew it we were back on the road. I even convinced my husband to stop at Wegman's on the way home, so I'd say it was a win!
Are you partial to frozen yogurt places? What's your favorite?