And three weeks in a row going strong for me and WIAW! (As always thanks to Jenn for hosting). I have some yummy goodies I've been munching on this week to share with y'all.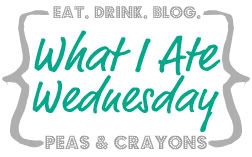 First of all, who's excited for March Madness !?!?!
Crickets? No one? I understand that food bloggers aren't as obsessed with college basketball as I am. Just wanted to throw it out there. On to the food.
Of course I had to start the week off with a Paleo Shamrock shake for St. Patrick's Day! I used to love shamrock shakes but I wouldn't touch one with a ten foot pole now-a-days. Waaaaay too much sugar.
I've also been snacking on my cashew-maca date balls as an afternoon snack. So good!
Last night for dinner I whipped up a quick recipe that I thought came together well- peppers stuffed with ground beef, onion, garlic and tomato sauce. And a side of green beans with ghee.
It took under and hour to prepare and ended up being delicious. I am embarassed that I only have one fancy napkin to take my blog pictures on. I am always embarassed about my blog pictures. It's my pathetic attempt to make them better. After reading Hannah's funny post yesterday about "You know you're a food blogger when…" I decided I'm not doing enough food photo prop shopping. I will get on that ASAP. Right after I'm done spending all my money on farming supplies.
Something new I've been trying- soup for breakfast! It sounds weird, but I've been looking for ways to curb my snacking after work before dinner. I tend to become hungry monster while waiting for dinner to cook (and while cooking). For the past three weeks I had only been eating banana bread and a hard boiled egg for breakfast. I got the idea of trying soup from Stacy of the Paleo Parents. This soup is good! I just kind of made up the recipe (which I'm saving for another project). It has kale, butternut squash, pork meatballs and leeks. If you can get over eating savory for breakfast I highly recommend trying it! Yum!
And you guys….you HAVE to go right now to PaleOMG and try her "Peanut Butter and Jelly" Stuffed Muffins. They are freaking amazing! I'm making a new batch as soon as they're gone.
One last thing I've been enjoying….these Annie's bunnies. They are NOT paleo, or grain free but I saw them on sale and I couldn't resist. So good. They are like Honey Grahms which I used to love. They are dangerous!!!! Gotta have a treat sometimes!
That's what I've been eating lately! Seriously- go make those muffins NOW!
Do you think you could ever do soup for breakfast?
What is one thing you love but know you can't buy all the time?
Do you watch college basketball? Fill out your bracket yet?