I really have just been slacking with the blog posts….been feeling so uninspired lately and feeling like I'm grasping at straws for topics. I don't want to force a post and I'd rather wait until I have something legit to post about. I do want to share, however, a fabulous restaurant we went to over the weekend because it's just too good not to. So I'm linking up again with Jen at Peas and Crayons for What I ate Wednesday!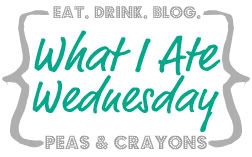 Over the weekend I got the pleasure to attend the men's NCAA Basketball tournament in Buffalo. We bought the tickets a month ago when Syracuse was riding high on a 25-0 season with an almost definite bid to be a #1 seed and land in Buffalo for the tourney. Well, I don't want to get into what happened to their season after that. All I can say it's been an incredibly stressful month worrying that we spent an uncomfortable amount of money on tickets to possibly not even see our team.
Somehow, they ended up a #3 seed and still playing in Buffalo. Annnnnnnd let's not talk about the fact they ended up losing a heartbreaking game Saturday but all in all it was an amazing experience and I loved watching all the teams play.
I love basketball! What an emotional season. I never knew I could get so pumped up, excited, or heartbroken over sports.
Another thing I get pumped up over- food. I wanted to find a restaurant in Buffalo to go to Saturday before the game that wasn't too expensive, but was also good. I thought about choosing Anchor Bar, the acclaimed 'original Buffalo wing' place, but honestly the reviews were not good and we just had wings the night before. I landed on a place uptown in the Elmwood area called Blue Monk.
It was in a really cute area of the city, sorta trendy. The inside was unique, with a downstairs bar area and upstairs seating.
The beer selection was great! However I thought it was a tad overpriced. And there was this one beer I REALLY wanted to try which was a S'MORES FLAVORED STOUT that they were out of. S'mores beer guys. I need to find this somewhere ASAP. I went with an oatmeal/coffee stout instead which was delicious.
For dinner I didn't take much time choosing the Duck Confit Reuben. It came with their specialty duck fat fries with chipotle bacon dipping sauce. WOW. This was really beyond words. Everything tasted amazing.
My husband got a regular burger, which I tasted and it was good and everything, but didn't hold a candle to my duck sandwich.
They had a nice selection of different types of burgers including elk and boar. My friend went with the boar burger. I didn't try it but it looked great as well.
They had a bunch of dipping sauces to choose from with their duck fat fries that sounded great. And it was delicious!!!! And great to spend time with friends!
Verdict: food was great! But food and beer were a little overpriced. I mean not too much, but just enough to be annoyed by. The waitress made a big deal about splitting the check… not sure why. I definitely recommend this restaurant if you're in the area though and want to forgo the chicken wings!
Have you ever tried a pork burger or duck?
Ever had chicken wings in Buffalo? What's the best place?!?
What did you eat this weekend that was great?!?