Yes, I'm linking up with Jen again from Peas and Crayons for What I ate Wednesday, the great hump-day blogger party. I'll admit, I look forward to everyone's WIAW posts and it reminds me that the week is moving along. I've also found some great new blogs to follow through that link up. If you haven't checked out the link up yet, go NOW!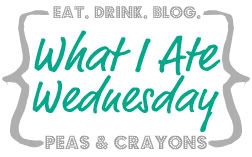 I've made cauliflower crust pizza before, which always ends up as more or less a pile of veggies when it's done with. I decided to try Primal Palate's crust from the book Gather, and it was amazing. I could actually PICK UP THE PIZZA AND EAT IT. This is groundbreaking if you're familiar with trying to make Paleo pizza. I topped mine with peppers, onions, mushrooms, peppers and raw cheese (okay, so it's Primal I guess).
Another winner: plantain lasagna. I know I've talked about this recipe before. It's probably one of my favorite dinners. I'll go so far as to say plantains are my favorite food.
Had that with a side of brussels sprouts and olives. I love brussels sprouts, however my stomach hates me when I eat too many. But they're so good and I can't ever stop eating them. Yes, life is hard my friends.
And last night for dinner was another winner from the 21 Day Sugar Detox Cookbook:
Italian sausage and peppers over garlic parsnip mash. Basically just ground pork with spices, onions, peppers and tomatoes over parsnips. And more brussels on the side. Another winner.
Another great recipe from the same book: Southwestern Breakfast Skillet. However I cooked it in a casserole dish because I don't own a big enough skillet for this baby:
It's all to delicious to handle!
What have you been eating lately?
What are your go-to weeknight dinners?