Do I seriously not know how to spell Sandwich?
Moving on.
I have an epic "recipe" to share with you. I'm not going to call it a recipe and type up a recipe card because it's more of an idea than a recipe, but regardless, you need to try it. Now. I've eaten this two days in a row for lunch, for this reason I am linking up with Jen at Peas and Crayons for WIAW again after a brief hiatus. I just love seeing all the other bloggers' eats!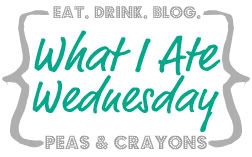 I decided to make PaleOMG's light and crispy vanilla waffles the other morning because I was craving waffles and every single thing I've ever made of Juli's is absolutely the best thing I have ever eaten. Not even exaggerating, it's my favorite recipe website. I actually made George Bryant's banana bread and topped it with Juli's cinnamon topping Sunday and it more or less changed my life. And the two of them have a cookbook coming out pretty soon, and I'm pretty sure I'm going to have to go ahead and order it. Really not sure why I haven't yet. I'm dumb. Just amazing, amazing recipes on both sites that I make repeatedly.
I had some waffles left over and obviously could not wait until the next morning so then I decided to put together this concoction for lunch:
Yep, that's a waffle sandwich. Because, why not?
I was always curious about the 'peanut butter/jelly/egg' combo from reading Sam's Blog (she always puts it in her oatmeal). So this is what I did:
1) Take leftover waffles and spread sun butter (or your favorite nut butter- sun butter is the most "peanut butter-y flavor") and your favorite natural, no sugar added jam.
I used homemade strawberry jam and sun butter.
2) Fry up some eggs to your liking
These gorgeous orange yolks are courtesy of our trip to a local farm Sunday. Mmmmm.
3) Place eggs in between waffles and admire this wonderful creation:
I actually took mine apart and ate it open faced because the sandwich was a little too big for my mouth! So good….
What are some of your creative waffle creations?
Eggs/peanut butter/jelly combo…yes or no?